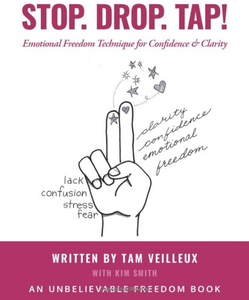 Tap your way to freedom!

TEMPORARILY OUT OF STOCK. CHECK AGAIN ON JANUARY 30, 2022
In this Unbelievable Freedom Habit Guide, coach Tam Veilleux reveals how emotional detox is accomplished through the use of Emotional Freedom Technique, also known as tapping.
Move out of stress and into calm
Be illuminated in the possibility of moving from stress, fear and confusion to peace, confidence and clarity, all through a comprehensive 21-day plan outlined in this fun, easy to read workbook.
Don't be tripped up by "I don't know what to say when I'm using EFT tapping." The hard work of language has been done for you.
Using a series of custom tapping scripts, Tam shows readers how to tap out the whole spectrum of negative emotions, while tapping in personal power and just plain fun. Through engagement with this workbook-style guide, tapping becomes a readily accessible coping skill for so many of life's situations.
Are you ready to get started? Stop, drop, tap!