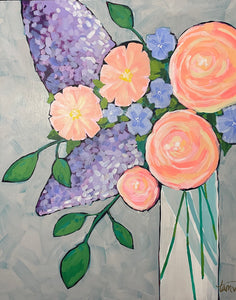 ORIGINAL ART BY TAM V DARES YOU TO NOT SMILE

SOLD July 2023
This original piece of mixed media art by Tam Veilleux is available to collectors now.
In spring of 2022 lilacs bloomed all across Maine creating a symphony for the senses. While the nose enjoyed the heady scent, the eyes enjoyed long drinks of shades of purple that danced as pale silver, dark eggplant, and all shades in between. Imaginary bright ranunculous and tiny blue mayflowers share space with the giants of the spring garden. The background is pale grey covering turquoise which peaks through ever so gently.
Enjoy this original piece of art which is 16 x 20" acrylic paint on masonite board and framed in a black floater frame, ready for hanging 
As a believer in the quantum field and having studied and applied neuroscience, I firmly believe that your environment impacts your internal state of happiness. If you live with gloomy art, then expect a gloomy attitude. On the other hand, surround yourself with happy, vibrant, joyful vibes and gain that in return. 
Good input equals good output.